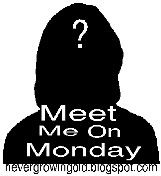 Questions:
1. What is your favorite way to eat chicken?
I love chicken. I love it in every way possible. I think my ultimate favorite is chicken cordon bleu.
2. Have you decorated for Christmas yet?
Nope, not even close to starting. Maybe next weekend.
3. What is your favorite article of clothing?
My skecher's shape up sneakers
4. Do you pay your bills online or write checks the old way?
We pay as many as we can online.
5. Do you make Christmas cookies?
No, but I sure do like to eat them! lol!